Editor's Note: Overdraft Apps provides detailed product reviews and recommendations based upon extensive research and our own hands-on testing. We may earn a referral fee when you sign up for or purchase products mentioned in this article.
A personal loan is a flexible financial tool that can help you pay off high interest credit cards, finance home improvements or pay for a major purchase. You can get a personal loan in just a few days with easy paperwork and no collateral, like your house or car. But, if your credit score is a bit shaky, many banks and online lenders may be quick to say NO or demand sky-high interest rates.
Lenme is an alternative way to borrow up to $5,000. There is no minimum credit score and your loand comes from individuals and businesses who want to invest in your success – and who compete with lower interest rates. This in-depth Lenme review will help you determine whether it's worth using for your next personal loan.
See what you qualify for in minutes >>> Check out Lenme
What is the Lenme App?
Lenme is an online peer-to-peer lending platform that connects consumers with various lenders, including traditional financial institutions, lending businesses, and other individuals. As a result, users can choose to participate on either side of the lending transaction.
Lenme Borrow: This is Lenme's unsecured personal loan, which you can use to borrow up to $5,000 that you'll repay with 1 – 12 monthly payments, depending on your loan amount and terms. Lenme also offers cryptocurrency-backed loans for up to $10,000.
Lenme Invest: For those interested in diversifying their investment portfolio, this feature lets you lend to other Lenme users. You set the interest rate you're willing to provide, though borrowers don't have to agree to it. They can choose another lender or simply decline if no offers are within their budgets.
Lenme Enterprise: This is a digital solution designed to help financial institutions and lending businesses operate in the small loan market using Lenme. It primarily streamlines the underwriting and debt collection processes. Individual users generally don't need to worry about it.
Get up to $5,000 with monthly payments >>> Check out Lenme
How Do Lenme Personal Loans Work?
While you can treat Lenme like a cash advance app, its financing product has more in common with a traditional loan. Principal amounts can be thousands of dollars, outstanding balances accrue interest, and repayment terms last up to a year.
In addition, failing to pay back what you owe will result in penalties, your debt going to collections, and damage to your credit score. Unlike most cash advance apps, Lenme reports negative activities to the credit bureaus.
If you're interested in borrowing money from Lenme, the application process starts with downloading the Lenme mobile app. It's available on both the App Store and Google Play. Install it on one of your devices and register for an account.
It'll have you provide your name, email address, birthday, and phone number. You'll also have to set a password and prove your email address is legitimate by clicking a link in a verification email.
Once those preliminaries are out of the way, you'll be able to log onto the platform and connect your bank account to your profile using Dwolla, a software similar to Plaid. You'll need to do so before you can request a loan because Lenme will transfer your proceeds and collect your monthly payments directly through your linked bank account.
It will also review your banking activities over the last 90 days to study your income and expenses. Along with your credit history, that's the basis for your borrowing limit.
Depending on your qualifications, you'll initially be able to request a loan for $50 – $5,000. When you submit a request, it'll be visible to lenders for 30 days, during which they can offer whatever interest rate they feel is fair based on your history.
When you accept a loan offer, the lender has 48 hours to sign off, after which you should see the funds hit your bank account in a few business days. Simultaneously, Lenme will initiate a hard credit check, which will affect your credit score.
If a lender declines to sign after you've accepted their terms for whatever reason, you'll still be able to accept any other offers you've received, plus whatever new ones come in after the fact.
Your Lenme loan repayment term can range from one to 12 months. Installments are due monthly and withdrawn from your bank account automatically.
See what you qualify for in minutes >>> Check out Lenme
Crypto-backed Loans
If you own cryptocurrency, you can boost your Lenme borrowing limit to as much as $10,000 by providing it as collateral. Generally, the loan-to-value ratio is 50%. In other words, your maximum loan amount will be half your collateral's market value, so you need $20,000 in crypto assets to request a $10,000 crypto-backed loan.
Just keep in mind that any cryptocurrency you use will be at stake. Lenme will hold onto it during the life of the loan, and if you default, the platform will liquidate it and use it to pay off your balance.
Rates on Lenme crypto loans range from 3% – 25%, depending upon the bids that lenders make on your loan request.
How Much Does a Lenme Personal Loan Cost?
When you borrow from Lenme, you'll incur two main costs: the interest that you pay to lenders and the fees that you pay to Lenme.
The interest rate on your loan is set by the investors who bid on and fund you loan, so you won't know it upfront, though you'll have the opportunity to review and accept or decline the final interest rate prior to finalizing your loan. Interest rates can be as low as 3%, but are typically significantly higher, especially if you don't have excellent credit. Your interest rate and loan payment amounts are fixed for the length of your loan.
For crypto loans, the range of rates is 3% – 25% APR, depending upon investors' bids on your loan request.
Lenme charges a 1% origination fee with a $3 minimum, which the platform applies to every lending transaction. It's the primary way Lenme makes money off borrowers. Fortunately, you don't have to pay the fee out of pocket. Instead, Lenme will automatically deduct it from your loan proceeds and roll the amount into your principal balance.
In addition to these more expensive costs, there's a subscription fee required to access most of Lenme's features. The app description claims it's $1.99 monthly, but Lenme is again cagey about the details.
Finally, you'll incur late fees if you're more than ten days delinquent on a monthly payment. The charge is equal to the greater of $15 or 5% of your unpaid installment amount. Unlike with cash advance apps, there are no express fees and no option to tip.
Personal loans for up to $5,000 >>> Check out Lenme
Is the Lenme App Legit?
Lenme is a legitimate and licensed Money Service Business with the Financial Crimes Enforcement Network. It's also enjoyed moderate support from external investors, raising roughly $585,500 across several funding rounds.
Though still a relatively young company, Lenme has grown fairly quickly. Since its launch in 2018, it's gained more than 600,000 users and originated over 20,000 loans, facilitating the issuance of roughly $8.1 million in funds.
It also receives mostly positive ratings, holding a 4.0 out of 5 stars on Google Play and 4.3 out of 5 stars on the App Store. That said, the reviews still indicate there are some pretty consistent issues.
Most notably, many users struggle to get the funds they need from the app since there's no guarantee a lender will make an offer on your request. Even borrowers that do receive them often have to wait longer than they'd like.
In addition, once you accept an offer, your lender has to sign off again to close the loop within 48 hours, or the transaction won't go through. That can lead to frustrating delays, which is a massive problem for those who need some fast cash.
Unfortunately, there also seem to be pretty frequent issues with the mobile app. Many of the glitches render the platform unusable, which is especially frustrating when you're paying a monthly subscription for access.
Finally, the customer service leaves something to be desired. There's no phone number to call, and reviews indicate that the team responds slowly to emails, if they do at all. They definitely don't respond to negative reviews, which have piled up on their pages.
See what you qualify for in minutes >>> Check out Lenme
Personal Loans Like Lenme
Get Instant Personal Loan Quotes
We've partnered with Fiona to provide instant comparison quotes from leading personal loan providers, including Lending Club, PenFed, Prosper, SoFi, Upgrade, Upstart, and more!
See what you qualify for in just minutes, with no obligation and no impact to your credit score.
Lenme's borrowing and lending features sound good in theory, but there are issues with the platform's execution that can make it impractical. Fortunately, there's no shortage of alternatives. Here are some apps like Lenme you should consider:
PockBox: Lenme lets you borrow much more than most typical cash advance apps, but it still can't compete with Pockbox, which can connect you with loan offers up to $20,000. Just be aware that some of its accounts are more costly than traditional cash advances.
Bright Money: If you're looking to to get off the credit card debt treadmill, consider a personal loan from the Bright Money app. You can borrow up to $8,000 to consolidate all of your bills into one, with rates ranging from 9% to 24.99% APR. While Lenme can hit you with multiple fees, Bright Money has no origination fee or late payment fees, and you can see what you qualify for in a few minutes with no impact on your credit score.
Cleo: Lenme lets users borrow and invest money, but it's lacking in other features. Meanwhile, Cleo has a lot to offer on top of its $250 cash advance. That includes budgeting software and a sassy AI assistant who can alternately shame or encourage you into improving your financial habits.
With so many lending and cash advance apps to choose from, feel free to shop around. If you're going to try a few out to see what works for you, start with ones that don't have a monthly fee so that you don't get stuck paying for something you might not want.
Watch: Best Cash Advance Apps for Gig Workers
WAIT! High overdraft fees aren't the only way your bank is costing you money.
With inflation overheating, you've probably heard that interest rates are climbing sharply. That means that for the first time in years, it's a great time to shop around for a high interest savings account.
The national average interest rate for savings accounts is currently 0.23% APY – that means that if you have $2,500 in a savings account, you'd earn just $5.76 after one year! Move those hard-earned savings to an FDIC-insured bank paying 3.50% APY and you'd earn $81.73 more!
Don't let your hard-earned savings sit there doing nothing. Check out the rates that you can earn at other banks: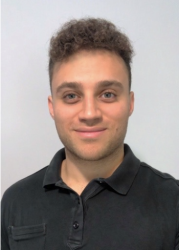 Latest posts by Nick Gallo, CPA
(see all)