Editor's Note: Overdraft Apps provides detailed product reviews and recommendations based upon extensive research and our own hands-on testing. We may earn a referral fee when you sign up for or purchase products mentioned in this article.
Recovering from poor credit – or establishing credit if you are young or a recent immigrant – can be a long, slow and costly process.
Your credit history reflects your ability to borrow and repay money responsibly over time, and if you have a low credit score, you don't get many opportunities to demonstrate your ability to manage a credit card or loan. Your applications will often get declined and you'll likely face sky-high fees and interest rates on any financing that you can get approved for. Plus, just applying for multiple loans or credit cards can actually drop your credit score even more!
There is one proven tool to help you establish or boost your score in a fairly short period of time – credit builder loans.
These small loans are specifically designed to help you show a history of responsibly making on-time loan payments, which are reported to the three major credit bureaus. Plus, they can help you build savings while you improve your credit score, a win-win!
Credit builder loans were originally offered by a handful of credit unions across the United States, so they weren't available online nor offered in every state. But now, a company named Self Financial offers affordable credit builder loans nationwide, with a simple online application process.
Is a Self credit builder plan a good choice for you? Let's take a look.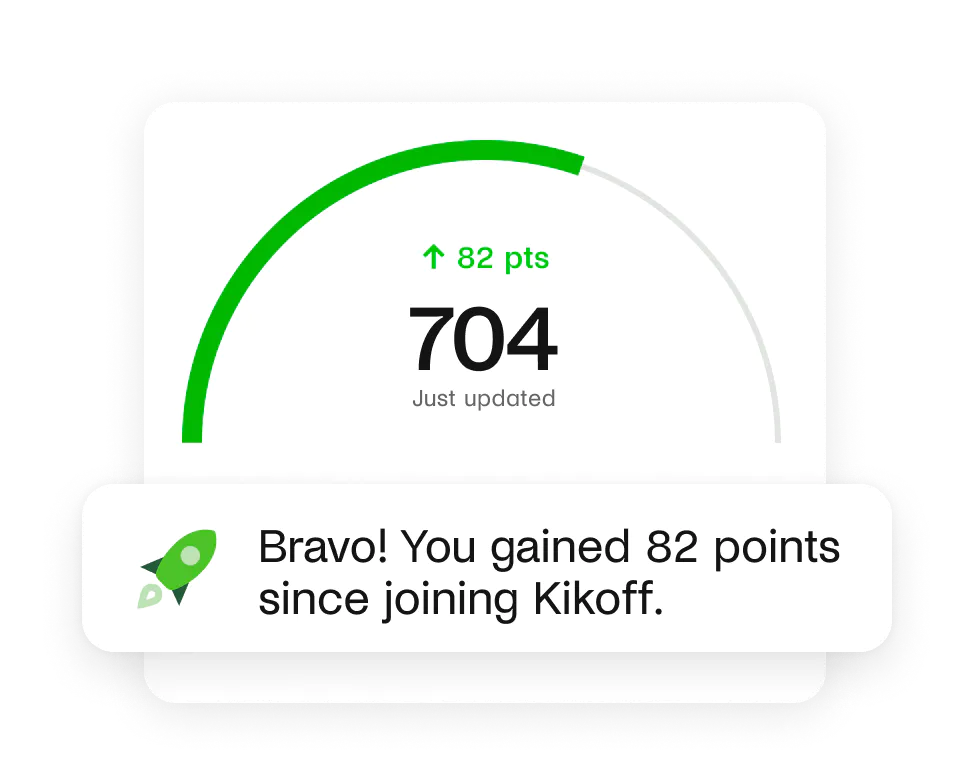 Kikoff Credit can help you build your credit with no credit check and no costly long term commitment.
On average, Kikoff customers with credit scores under 600 increase their credit scores by 58 points, with consistent on-time payments during the account lifetime. Many Kikoff customers have been able to qualify for better car loans, mortgages, credit cards, personal loans, and more.1
Kickoff has helped over 1 million people build credit and costs just $5/month!
What is the Self Financial Credit Builder Loan?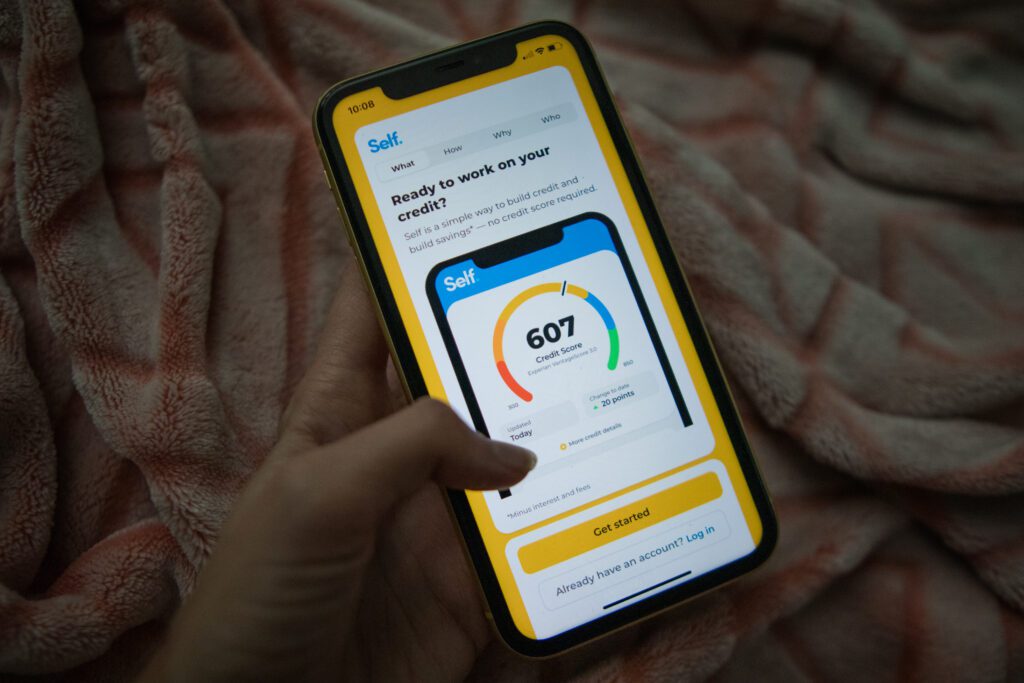 Self Financial is one of the largest providers of credit builder products, with over 1 million customers nationwide. You can apply for a Credit Builder loan2 through Self online or via the app. It only takes a few minutes, there is no hard credit pull (which can further ding your credit score), and a low credit score or no credit history are no problem.
Self customers see their credit score bump an average of 30 points3
If you don't have a credit history, Self is a great tool to establish one with all three major credit bureaus. This could help you unlock access to a credit card, auto loan or personal loan at reasonable rates.
Build your credit and your savings >>> Check out Self
How do Self Credit Builder Account work?
Self's Credit Builder Loan works in the reverse order of a more traditional personal loan or installment loan. Instead of getting your proceeds at the start of the term and then paying down your balance with regular monthly payments, with a Credit Builder Loan you'll receive your savings back after making all of your payments, minus interest and fees. The interest and fees on a couple of Self loans total less than $100!
That's right, you can get most of the money you paid towards your Self plan returned to you after your final payment, so you're building up some savings while you work on improving your credit score! And if you ever find yourself unable to keep up with the payments or just aren't satisfied, you can cancel your Self plan and get your savings returned to you, minus interest, fees, and penalties.
When you set up your Self loan, you'll select the monthly payment amount and plan length that works best for you, with options between $25 – $150 for 12 or 24 months.4 As you make your on-time monthly payments, Self reports them to the three major credit bureaus (Equifax, Experian and Transunion).5
Here are the four credit builder loans you can choose from:
| Self Plans: | $25/month for 24 months | $35/month for 24 months | $48/month for 12 months | $150/month for 12 months |
| --- | --- | --- | --- | --- |
| You'll Pay | $600 | $840 | $576 | $1,800 |
| You'll Get Back | $520 | $724 | $539 | $1,663 |
| Total Cost | $89 | $125 | $46 | $146 |
| APR | 15.92% | 15.97% | 15.65% | 15.91% |
There is also a one-time, non-refundable admin fee of $9.
For example, if you choose the Self Credit Builder Loan with a $48 monthly payment for 12 months, you'll make $576 in total payments and receive back $539 upon completion of your plan. Self's interest cost and $9 upfront admin fee will total $46. The loan has a 15.65% APR – that could be less than half the APR charged on some personal loans for borrowers with fair credit.
You can also qualify for a Self Visa® credit card in as few as three months, with a credit line that can grow to up to $3,000!6
Pick your own affordable Credit Builder Account >>> Check out Self
Alternatives: Credit Builder Apps Like Self
While Self offers a great product, it's not necessarily right for everyone. While building up savings you can tap later is great, Self doesn't provide you with any access to cash now. And even though Self's loans start at $25/month, that still may be more than you're able to pay if you're on a very tight budget.
Fortunately, there are several other quality credit builder loans like Self that may be a better fit for your needs. They are all affordable options to help you boost your credit and build up some savings as well, with easy online enrollment. Here are three to consider:
Credit Strong – Build Your Credit for Just $15/Month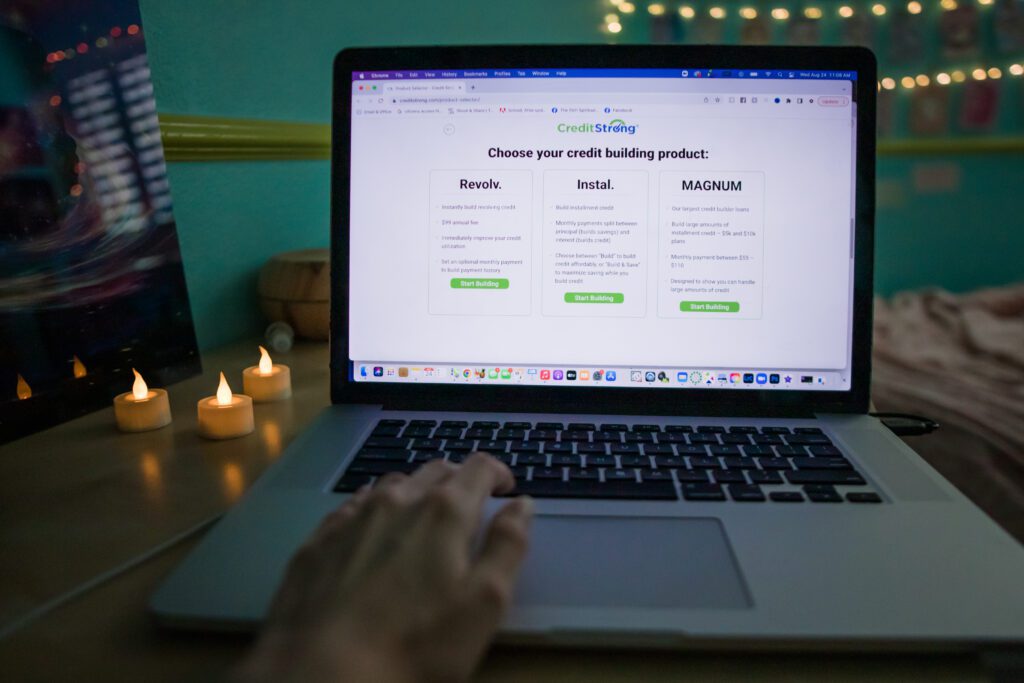 While improving or establishing your credit score can open the door to traditional, lower cost credit cards and loans, sometimes it can be tough to free up the extra cash required to make regular payments. If you want to work on boosting your credit score but don't have much cash to spare, Credit Strong may be the right credit builder option for you.
Credit Strong offers five different credit builder loans, including one that costs just $15 per month. The Build 1000 plan is a $1,000 credit builder loan with repayment stretched over ten years to keep your monthly payment amount at just $15 (plus a one-time, non-refundable administrative fee of $15). Rates on the Build 1000 plan are an attractive 13.5% APR, which is lower than Self's rates by more than two percentage points.
During the Build 1000 plan, you would make 120 monthly payments of $15 (plus the $15 administrative fee), which totals $1,815. You will receive back $1,000 at the end of the play, so the total finance charge is $815.
Now, ten years is likely longer than you'll want to (or often need to) stick with a credit builder loan and the good news is that you can cancel your Credit Strong account with no prepayment fee or early termination fee and receive your accumulated savings.
You should note that Credit Strong's credit builders are amortizing loans (like a mortgage or car loan) which means that much of your payments in the early years go towards interest, while towards the end of the loan most of your payment goes towards reducing the loan balance. For example, if you cancel your Build 1000 plan after two years, you'll have made 24 monthly payments of $15, totaling $360 (plus the $15 admin fee). $249 of those payments would go to interest and you'll have access to $111 in savings.
On average, Credit Strong customers see their credit scores increase by more than 25 points within 3 months of opening their account. Credit Strong account holders who complete 12 on-time monthly payments more than double that score increase to almost 70 points. If you don't have a credit score, it will take about 1 to 2 months from the date your account is reported to the bureaus to get a VantageScore® and about 6 months to get a FICO® Score.
Pay just $15 per month to boost your credit >>> Get started with Credit Strong
Kikoff Credit – Build your credit for just $5/month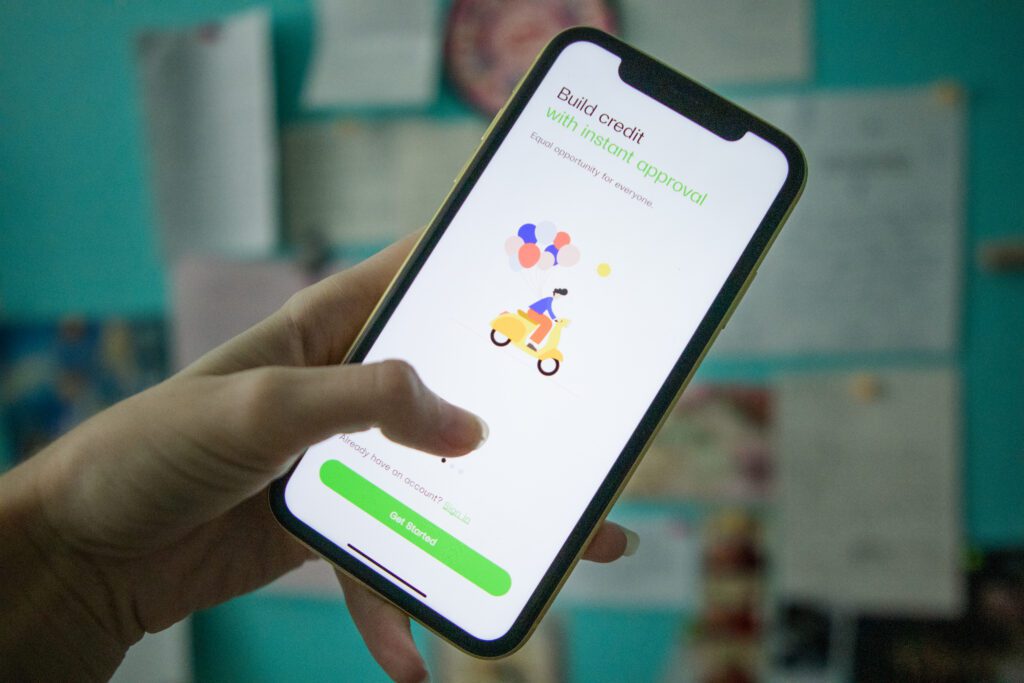 With Kikoff Credit, you can build your credit for just five bucks a month!
Customers with a credit score below 600 see their credit scores increase by 27 points after just one month!7 Over time, customers who started with a score below 600 see that increase more than double to 58 points.
You can apply online on minutes, and there's no credit check. Kikoff will create a $750 revolving line of credit in your name. You can only use the line of credit to purchase at Kikoff's online store. This store contains a variety of eBooks on personal finance, wellness and other topics, starting at $10 each. You're not obligated to purchase anything, and the monthly Kikoff membership payments are reported to Equifax and Experian, which can positively impact your credit score.
Kikoff Credit charges no interest (0% APR), late fees, administrative fees, or other fees. You'll pay just the $5 monthly payment for your membership, with a one year commitment ($60 total price tag). Apps like Kikoff Credit carry a low price and can deliver a big impact to your credit score.
Build your credit for just $5/month >>> Check out Kikoff Credit
Grow Credit – Start building credit for free
If you're looking to build up your credit score, but don't want to take out a credit builder loan, Grow Credit might be the solution you're looking for. With Grow Credit, you can use a no-interest Mastercard to pay for your monthly subscriptions to popular streaming video, music, and food delivery services, and your on-time payments will be reported to credit bureaus, helping you boost your credit score.
What sets Grow Credit apart from credit builder loans is that you're paying for services you already use, making it easier to stay within your budget. Applying for Grow Credit is also quick and easy, either online or through their app, and bad or no credit won't prevent you from being approved, as long as you have a valid bank account. Once you're approved, you'll receive a $17 monthly spending limit Grow Credit Mastercard to use as the payment method for one or two monthly subscription services.
With over 100 services supported, including popular options like Hulu, Netflix, Door Dash, and Uber Eats, you'll have plenty of options to choose from. Plus, Grow Credit provides discounts and free trials to dozens of products like Peacock, Showtime, Bark Box, and Hello Fresh.
You may even qualify for a free Grow Credit account!
After 12 months, the average Grow Credit user experiences a FICO score increase of 51 points, according to a platform study conducted in March 2021.8
Start building credit for free >>> Check out Grow Credit
MoneyLion Credit Builder Plus – Access Some of Your Loan Now, Plus 0% APR Cash Advances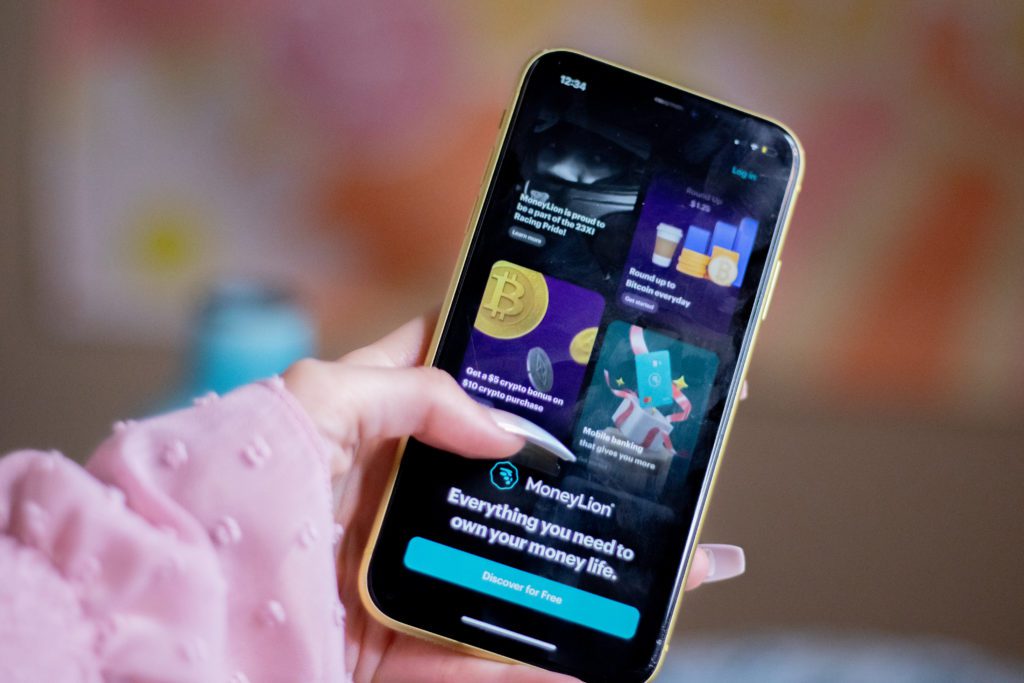 MoneyLion is becoming a Swiss army knife of personal finances apps, and its Credit Builder Plus offers loans for up to $1,000 where you'll get some money upfront, and the rest upon completion of your plan.
Rates range from 5.99% to 29.99%. You'll also need to pay a hefty $19.99 monthly fee to participate in Credit Builder Plus, though this does cover a few additional small benefits, such as higher limits on 0% cash advances (more on that in a moment).
More than half of MoneyLion Credit Builder Plus customers see their credit score increase by over 42 points within 60 days of opening an account.
Another benefit of Credit Builder Plus is that you can get access to up $300 in MoneyLion cash advances with no interest or fees – 0% APR. You'll need to link a checking account to MoneyLion and receive a paycheck or government benefits payments on a regular basis to qualify. MoneyLion will put the cash advance into your account in as fast as 12 hours at no charge, or you can pay an optional small fee to get the funds in minutes. Similar to apps like Earnin, MoneyLion will ask you to leave a tip, but this is completely optional and won't impact your cash advance limit (so we recommend that you skip it). MoneyLion will schedule automatic repayment of your cash advance to coincide with your next paycheck.
Get funds while you save and build credit >>> Check out MoneyLion Credit Builder Plus
SeedFi Borrow & Grow – Get Cash Now and Savings for Later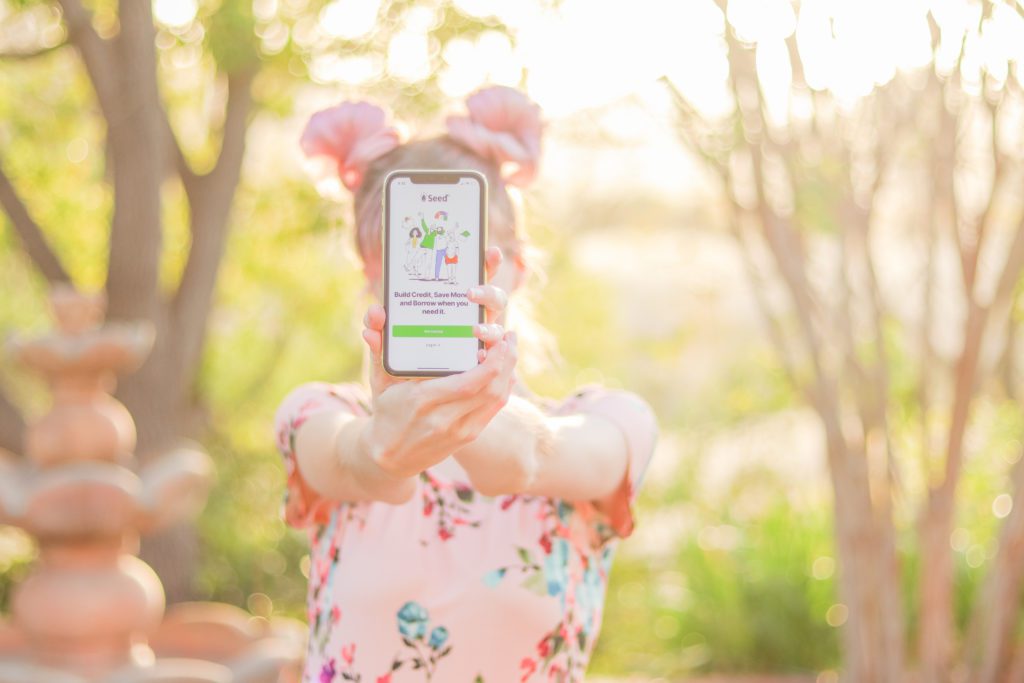 SeedFi's Borrow & Grow Plan9 is a personal loan and a credit builder loan wrapped together in a single product. SeedFi's credit builder loan gives you some money upfront – up to $5,000 – while also building up savings that are handed back to you at the end of your payment plan. And just like with Self, your on-time payments can help boost your credit your score – many SeedFi borrowers saw their credit score increase by 45 points within six months10!
Take a look at a sample loan that you could qualify for with apps like SeedFi. You would receive $3,500 at the start of the plan, which is yours to use now. Every two weeks you would make a $130 payment for 37 months. Upon completion of your payment plan, you would also receive back $3,500 in savings that you've accumulated.
This plan results in total payments of $10,305, including a $3,305 in finance charges. The cost of the plan works out to a 26.99% APR, which is well below the 36% APR rate that many lenders charge on personal loans to borrowers with fair to poor credit.
SeedFi's Borrow & Grow Plan loans range from $1,500 to $9,000 for first time borrowers, with $300 to $5,000 accessible immediately and then the rest of the loan locked in a savings account until you have repaid in full. Repayment periods range from 10 months to 48 months, and APRs range from 11.59% to 29.99%.11
Need a little extra cash in your pocket before you go? Forget asking your buddy or digging under the couch. Try these quick and easy solutions:
WAIT! High overdraft fees aren't the only way your bank is costing you money.
With inflation overheating, you've probably heard that interest rates are climbing sharply. That means that for the first time in years, it's a great time to shop around for a high interest savings account.
The national average interest rate for savings accounts is currently 0.23% APY – that means that if you have $2,500 in a savings account, you'd earn just $5.76 after one year! Move those hard-earned savings to an FDIC-insured bank paying 3.50% APY and you'd earn $81.73 more!
Don't let your hard-earned savings sit there doing nothing. Check out the rates that you can earn at other banks:
Latest posts by Mitchel Harad
(see all)