Editor's Note: Overdraft Apps provides detailed product reviews and recommendations based upon extensive research and our own hands-on testing. We may earn a referral fee when you sign up for or purchase products mentioned in this article.
Looking to get your hands on the latest Apple devices, gaming console, handbags, jewelry, or more? Larger purchases like these can be hard to squeeze in your budget if bad credit is preventing you from getting a reasonable credit card limit (or any credit card at all).
Buy-now, pay-later services like Perpay can give you a $1,000 spending limit even if you have bad credit, and lets you pay over time to make those big purchases more affordable. And your on-time payments will even help you build credit.
Sounds too good to be true? Well, of course everything comes at a price. Let's dive in to whether this is worth it in our Perpay review.
Get an instant $1,000 spending limit >>> Start shopping at Perpay
What is Perpay?
Perpay is a buy-now, pay-later service that lets you buy goods on the company's digital marketplace and pay for them with interest-free installments. After using the platform for a brief period, you can have your activities reported to the three major credit bureaus.
Buy Now, Pay Later: When you sign up for Perpay, you'll get a line of credit with a limit based on your annual income. It'll usually be somewhere between $500 and $2,000 – most new customers start off with a $1,000 limit, even if they have bad credit. Any purchases you make are repayable with up to 12 months of interest-free installments automatically deducted from your payroll direct deposit.
Shop the Marketplace: You can only use Perpay's buy-now, pay-later services to purchase goods on the platform's digital marketplace. Fortunately, Perpay offers a variety of products, including electronics, home goods, and apparel. Many top brands are there, such as Apple, Sony, Nintendo, Marc Jacobs, Michael Kors, and many more (electronics and fashion are the most popular categories). However, prices are higher than you'll pay at most other popular retailers.
Build Credit With Perpay+: Once you complete four months of timely payments equaling at least $200, you can access Perpay+, the platform's credit-building program. Upon activating it, Perpay will report your spending limit and monthly payments to the three major credit bureaus. Perpay+ members see their credit score increase by an average of 36 points after six months!1
Shop top brands, pay over time >>> Start shopping at Perpay
How Does Perpay Work?
You can get started with Perpay by opening an account online or downloading the mobile app from the App Store or Google Play. The sign-up process doesn't involve a credit check, but you should meet these eligibility requirements:
Maintain full-time employment
Be with your employer for at least three months
Receive your paychecks via direct deposit
Be in good standing with all financial obligations and have no active bankruptcies
Most new customers are instantly approved for an initial spending limit of $1,000!  Perpay also sends out frequent exclusive promo codes to registered users, so it's worth signing up today to receive those, even if you're not ready to buy yet.
Assuming you're eligible, you can go ahead and create an account, which involves verifying your phone number and identity, then answering questions about the amount and frequency of your earnings.
That's all Perpay needs to assign you a spending limit, which you can use to start shopping for your first purchase. When you find something you want to buy and go to check out, you'll set up your repayment plan.
Perpay will let you choose the number of payments you want to make, which will determine your minimum payment amount and the length of your repayment term. Since there is no interest, stretching out your payments over a longer period of time will make each payment smaller without increasing the total amount that you pay.
For example, a pair of Ray-Ban Wayfarer sunglasses is currently $234 on Perpay, including tax. You can choose from three no-interest payment options:
Two payments of $116.89
Four payments of $58.45
Five payments of $46.76
Pay over time with no interest >>> Start shopping at Perpay
Paying for your Perpay Purchases
Once Perpay approves your order, it'll email you a link to set up your minimum payments. Perpay requires that they be processed via automatic deductions from your direct deposit each time you receive a paycheck.
When you make additional purchases, Perpay will increase your minimum payment amount and deduct more from your paycheck, distributing the funds across all your outstanding orders. That effectively ensures you can never miss a payment.
If you'd like to pay off your balances faster, you can make extra payments through credit card or bank transfers. However, there's little incentive to do so since no interest accrues on your balances.
Only when you've completed your first minimum payment via direct deposit will Perpay ship your product to you. It should go out within the next three to five days. Perpay is one of the most accessible ways to buy big ticket items, like jewelry and electronics, without a credit card.
In addition, you only have 30 days from the delivery date to initiate the process for returnable products, and you're responsible for return shipping costs plus a $10 return item fee AND a 5% restocking fee. If your product is defective or damaged, you only have 48 hours after delivery to return it, so make sure to inspect your packages promptly. Be aware that some products are ineligible for return, such as personal care products, electronics removed from the packaging, and products from select brands like Gucci and Samsung.
Perpay Credit Card
Once you complete your first order on the Perpay Marketplace, you unlock the ability to apply for the Perpay Credit Card. It's a relatively recent addition to Perpay that can help you use many of the platform's benefits outside the marketplace.
You don't have to undergo a hard credit check when you apply for the card, so it won't hurt your credit score. Instead, Perpay will use your income and employment data plus your Perpay payment history to underwrite your application.
If you qualify, you'll receive an unsecured credit line between $500 and $1,000, usable anywhere MasterCard is accepted (not just Perpay). It earns 3% cash back on payments toward your Perpay balance, which you can use as a credit against future Perpay purchases.2
Like Perpay's buy-now, pay-later services, your credit card payments will be deducted from your direct deposit. However, your balances will accrue interest, so you should always aim to pay off your statement balances, not just the minimum amount.
Perpay will report your account's terms, balances, and payment details to the major credit bureaus by default, giving you another opportunity to build credit.
Build Credit with Perpay+
If you'd prefer not to sign up for the Perpay Credit Card, you can still use the platform to build credit by activating Perpay+. The option becomes available after you complete four months of timely payments equaling at least $200.
If you activate Perpay+, the platform will report your spending limit to the consumer credit bureaus as a revolving line of credit. It will also share your purchases and payment activities as you use the service to help build your score – Perpay+ members see their credit score increase by an average of 36 points over six months.
Perpay+ members also have the option to split repayments into smaller installments over a longer period of time on some purchases.
Get an instant $1,000 spending limit >>> Start shopping at Perpay
How Much Does Perpay Cost?
Signing up for Perpay is free, and you don't have to pay any membership costs to maintain your account. Perpay's buy-now, pay-later services are also free, with no interest or fees involved, even if you pay late.
However, the items on Perpay's marketplace have higher prices than you're likely to see elsewhere. Perpay makes most of its money by buying goods wholesale and reselling them to you for more than it paid.
In addition to the markup, Perpay also charges you for shipping. For example, a video game the original seller has listed for $59 costs $99 plus $15 in shipping on Perpay, repayable in five payments of $23 by default.
You will pay higher prices with Perpay than you will at traditional online or offline retailers. However, when comparing prices don't forget to factor in the value of no-interest installment payments over time. When you put these up against the cost of paying for an item over time on a high interest or secured credit, Perpay is often in the same range and it won't eat up your available credit.
Perpay rarely issues coupons, so don't waste too much time clicking on the many Google results you'll see for "Perpay coupons" as they're nearly all fake. Perpay will sometimes put a promotional credit into your account – such as $50 towards your first purchase – but these aren't advertised and no coupon or promo code is required.
As for Perpay's other offerings, Perpay+ costs $3 per month, while the Perpay Credit Card has a $9 account opening fee and a recurring $9 monthly fee. It also carries a $30 late payment fee and a $19 returned payment fee.
Is Perpay Legit?
Launched in 2017 after receiving $2 million in seed funding, Perpay is a legitimate business and has become a well-respected platform in the intervening years, now boasting more than 7 million members.
Perpay generally receives positive reviews from customers, resulting in a 3.8 out of 5 star rating on Google Play based on 4.58K reviews and 4.6 of 5 stars on the App Store based on 5.3K ratings.
Users praise the company for following through on its primary promises. You can finance your purchases without a credit check or interest costs, and the convenient payroll deductions ensure you pay on time, helping you build credit.
Of course, nothing ever receives perfect marks, and some users have their issues with the platform. There don't seem to be any consistent problems, but there are multiple reports that the app and customer service team could be faster.
Otherwise, most negative reviews come from people who dislike the arrangement fundamentally. For example, they're turned off by the idea of paying higher prices or having their payments taken from their direct deposits.
Pay over time with no interest >>> Start shopping at Perpay
Apps Like Perpay
Perpay lets you borrow money with no credit check, finance purchases with interest-free installments, and build credit over time. It does a good job of all three, but no service is perfect for everyone. For example, Perpay generally isn't accessible for gig workers.
If you're looking for alternatives, here are some options to consider:
Dave: Dave is one of the most popular cash advance apps on the market and lets you borrow up to $500 with no credit check or security deposit. Unlike Perpay, you can use the proceeds anywhere. It's also available without a direct deposit, making it an attractive option for those without a regular paycheck.
Chime: Perpay's Credit Card is one of the few cards you can get without a credit check. However, you must use Perpay's buy-now, pay-later services to qualify. If you don't use the platform but want a similar card, Chime's Credit Builder Card can be a good substitute. It requires a security deposit, but there's no credit check or interest on your balances.
Grow Credit: Looking for a lower-cost way to build credit? Grow Credit offers a unique solution with its no-interest Mastercard. Your credit line will be tiny – just $17 – and you can only use the card to pay for monthly subscription services (think Hulu, Netflix, Spotify, etc.) But since you're just shifting around what you probably already pay for, you're not adding more stress to your budget. Grow Credit will make automated payments from your bank account and report these payments to major credit bureaus to help you build credit. Plus, track your progress with their free credit score monitoring tools.

Why have 14 million people ditched their high-fee bank for Chime?
Chime is a financial technology company, not a bank. Banking services and checking account provided by The Bancorp Bank, N.A. or Stride Bank N.A.; Members FDIC.
Fortunately, there's no shortage of consumer credit products, and more are hitting the market daily. Make sure you shop around and consider all the options before you apply, especially if a credit check is involved.
WAIT! High overdraft fees aren't the only way your bank is costing you money.
With inflation overheating, you've probably heard that interest rates are climbing sharply. That means that for the first time in years, it's a great time to shop around for a high interest savings account.
The national average interest rate for savings accounts is currently 0.23% APY – that means that if you have $2,500 in a savings account, you'd earn just $5.76 after one year! Move those hard-earned savings to an FDIC-insured bank paying 3.50% APY and you'd earn $81.73 more!
Don't let your hard-earned savings sit there doing nothing. Check out the rates that you can earn at other banks: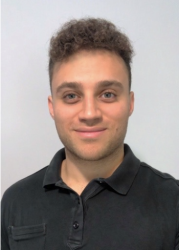 Latest posts by Nick Gallo, CPA
(see all)